Section Notes & News October 2021.
September's Quiz Answer.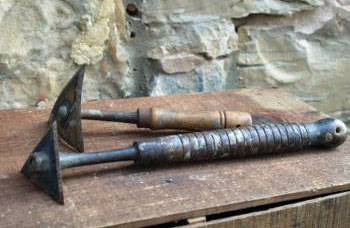 The question was simply what are these hand tools.
The answer is they are wood shavers. The are used for finishing the profiles of wooden beadings erc.They come in different shapes the triangular shape being the most popular. There is a coma shaped one that can be used for rounded surfaces. A common use of these tools was to scrape old paint of skirting boards, window frames etc after the paint had been softened with a blow lamp or chemical stripper. There were a couple of correct answers. Well done those people.
October's Quiz Question.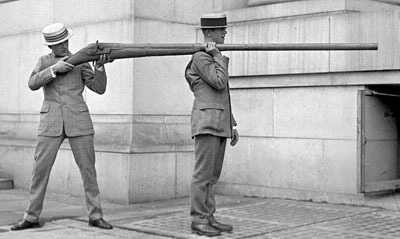 This is a real gun that fires and not an advertising sign for a gun smiths shop. What type of gun is it and what is it used for.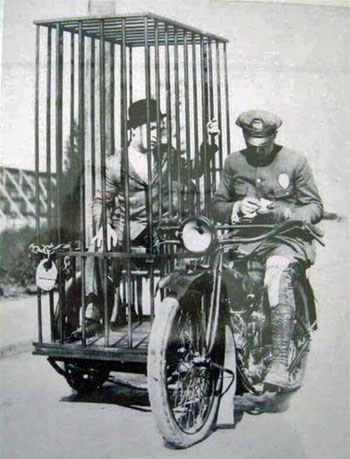 I recon Harley Davidson bikes have been used for most things over the years. A mobile jail is one I would never thought of. It must be a bit of a pig to control and if the "passenger" didn't keep still it would stand a good chance of tipping over.
I have been behind a prison van stopped at traffic lights and it started to rock from side to side as the occupants moved from side to side in unison. The drive countered this by setting of quickly and then stopping equally as fast.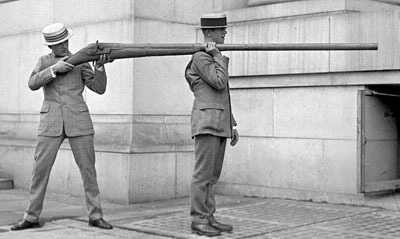 I have received an interesting answer to this months "what is it" question. David Warby tells me that a gentleman by the name of Snowden Slieghts used such an object on the Derwent Ings around the 1890s, an Ings is a water meadow, a marsh or a flood plain of a river. The Derwent Ings is in the East Cottingwith area. It is in the same locality as the"Pig in the Willow" were the Section has one of its events.
David also sent the following photos below.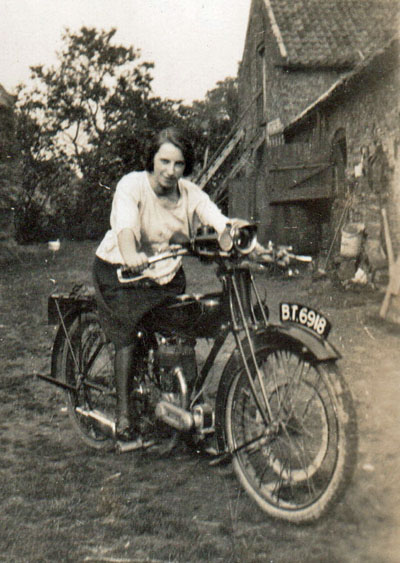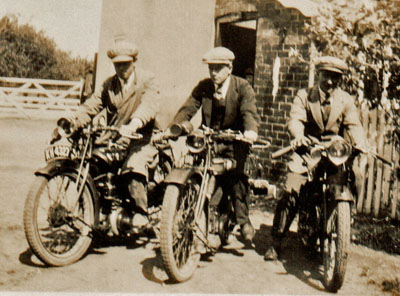 All the machines are well equipped with lights and horns. The lady's machine has belt rim brakes and a East Riding registration. The men's bikes all have "dropped" handle bars and two of them drum front brakes. I think the middle bike could be a Norton.The photos were all taken in Seaton Ross, the lady is Mary Henley, the photo was taken in 1924 in the stack yard of Green Farm. The men are the Fisher brothers the photo being taken in Holy Farm stack yard. I notice that caps with the the peak at the back have not become fashionable in Seaton Ross.
Many thanks to David and his friend Fred Henley for sharing the photos with us.

If you have any photos of any thing , or cartoons etc
that you think might be of interest to visitors to the club web site please don't be shy. Send them in so that we can all enjoy them.

STAY SAFE
Have you any ideas for runs /start venues for 2022 or want to help?
Contact Glen 01430 422667 or Harry 01482 862209
If you have any photos of projects you have on the go at the moment why not send in a photo or two. Anything you might think would be of interest. Use the email link below.