Past Events Reports.
East Yorkshire Section.
2018

Mid Links Day run.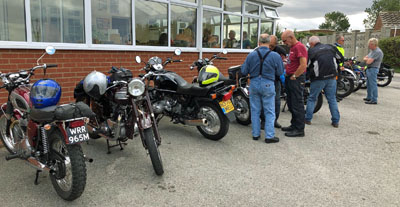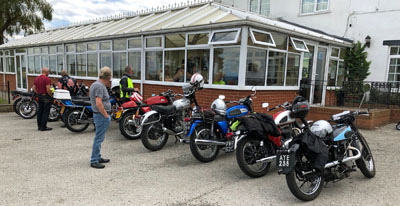 Bikes outside The Tywhitt Arms at Short Ferry near Lincoln where we had a ride in for lunch meeting.
Some of us had a scenic ride there via Sturgate and Wickenby Airfields before turning off the Wragby/Bardney road to a Short Ferry then another scenic ride back via Horncastle, Cadwell, Binbrook and Rothwell. A good turnout for a day run. Well done to all.
I thought the name Tywhitt was worth looking up and I came up with the following:-
The Tyrwhitt surname comes from the place name Trewhitt in Northumberland; the first bearer of this surname was most likely someone who had come from that place to a new location. The name goes back ro the 1600s.

Golden Era Run.
Well after a long period of hot dry weather things changed this week end. The wind and rain certainly made their presence felt. However there seemed to be a good turn out despite the poor riding conditions.
Single speed Hobart. Unloading. Matchless.
Work in progress. As shiny as a new pin.
Ancient & modern. Sidecar tornneau acting as a pluviometer.
One of the riders had an accident and the Air Ambulance was called. We wish him a speedy recovery, and hope he is soon back riding.
Many thanks to the organisers and all that took part.

Founder's Day at Stanford Hall.
Richard has sent in the following photos of some of the interesting machines on show.
A rare machine. A twin headlamp Panther.
Very Smart. Like the tractor seat. 360cc Greves.
Many thanks Richard for sharing your day out with us.

Mid Lincs Day Run.
Fourteen signed on for this years Day Run, starting again from Caenby Corner. We set off towards Glentham before taking a left turn onto the scenic route to Bishop Norton, Atterby & Waddingham then heading towards Caister but turning right well after Brandy Wharf towards Kingerby, then a little back road towards the A631.
We turned off the Louth road towards Toft next Newton, Owmby, Spridlington & into Hackthorn then past the front gate of Scampton Airfield, unfortunately the Red Arrows did not greet us with a display.
Once turned past the Lincolnshire Show field we turned left once into Sturton by Stow then right towards Torksey then heading in Newark direction before taking Dunham Toll Bridge over the Trent fortunately free for motorcycles.
Once into Dunham on Trent we skirted round via East Drayton & Upton to the Transport cafe at Markham Moor for lunch.
This is the third time we have been there for lunch my feeling being it is not as good as previous visits, perhaps it is time to make a change.
The return journey took us out of Milton skirting Bevercoates before turning towards Laxton going past the Holocaust Centre, never having been there I cannot comment if it worth a visit, checking out on the website required perhaps.
We travelled along back roads past the Power Stations of Cottam & West Burton, High Marnham no longer being there, into Clayworth then the picturesque village of Wiseton before turning into Gringley on the Hill before arriving for coffee at Harrys in Misterton.
Our thanks to Harry and his good lady for their hospitality where as usual there was plenty of banter, & the world being put to rights.
At least the weather was kind to us even though it was cooler than late at the start until just before the lunch stop.

Another good day out in Lincolnshire and a little bit of Nottinghamshire. Well done all.
Spotted on the run, square fours are difficult not to spot, was this example which had dampers added to the rear springing.
Norton steering dampers being adapted to give two way damping. A very neat job.

The July Jaunt
The weather had been set fair for several weeks now and it remained so for Sunday's run starting at Langlands Garden Centre, Shiptonhorpe. The riders started arriving early and there was soon a good entry gathered.
Riders thinking about getting ready.
Route card ready. Quick follow him. In a minute. No rush.
There was a choice of routes in the morning, a long one and a short one. Most riders opting for the long one. The route wandered back and forth within the Vale of York finally finishing at the Pig in the Willows cafe at Cottingworth.
The organisation at the cafe was good and riders were served promptly. The food was good and the menu varied. The breakfast with black pudding proving popular.
The afternoon run was shorter and took riders via Howden along the river bank back towards the start.
There were no breakdowns reported but two riders did admit to getting lost.
Many thanks to Brian for an excellent run.
Thanks to all who took part for your support.
Another grand day out in East Yorkshire.

Banbury Run.
Nikki, Marie, Jason and Chris all represented the East Yorks Section at the VMCC Banbury run, starting from Gaydon motor museum. They were all riding various models of Triumph. The weather was fine with a just a slight shower on the last stretch. All the group completed the course but missed a turning and had to back track to get back on course and fuel was getting low. Nikki and Jason topped up with fuel and were soon back on track. Silver and gold awards proved elusive, oops, never mind back to East Yorkshire, empty handed, but completed the course and thoroughly enjoyed the day out.

Many thanks to Nikki for the report and the Photos.
Jason, Nikki, Marie. The team. Jason.

Mid Lincs Section also had riders taking part in the Banbury Run.
Phil Meggett.1927 AJS.
Dave Pearson. Matchless.
Dave Dawson. 1923 Rover.
Glen Douglass. 1915Douglass.
Ray Meggett.Raleigh.
Well done to you all

The Betty Fisher Run.
The weather had been very good all the week leading up to the weekend, but it was due to change. As luck would have it, the weather front that was forecast to make Sunday a wet day passed through on Saturday night leaving the day cool and overcast but dry.
Bry's family once again made us very welcome with a fine spread of drinks and snacks.
The Harley belongs to the local postman. Among the first to arrive.
The yard filling up.
Martyn, Eddie, and Ken all setting off in the right direction.
After a hole had been made in the refreshments, riders set off on the morning section of the route. Through Brands Burton past the gravel pits and on to North Froddingham. Next was Harpam where St. John of Beverley was born, pressing on to that lovely old house of Burton Agnes. Across the A614 and turning first right to Gransmooor at the pond and then turning right at Kelk and then towards Beeford. Saunter through Beeford and turn right at the A165 for a short run before turning left to Skipsea, Bewholme and then Hornsea. Many of the minor roads needed the riders full attention as there was a lot of grit on corners and a few pot holes. Lunch at the Hornsea Mere Cafe or if you wished find a pub or fish and chip shop in the town. The route was a distance of 40 miles. The mere at Hornsea is the biggest fresh water lake in Yorkshire.
Looking out from the Cafe across the Mere.
The afternoon route followed the coast southwards through Cowden, an old RAF aircraft firing and bombing range, down to Aldbrough. Turn off the B1242 at Hilston keeping eyes to the left to see if you can spot Admiral Storr's tower. It was built in 1750 and is 50ft high. It was used as a lookout post and a hospital but is now unused. Head toward Sproatley passing that fine Elizabethan hall - Burton Constable. Now a small detour through the edge of the hall's grounds and then back to Bry -Bets farm for yet more delicious refreshments. A distance of 22 miles.
Photo by Richard.
At the Mere showing some sail boats and bikes.
Bry and his team (left) were thanked and tokens of thanks presented .
Photos by Niki.
The riders were presented with mementoes of the event.
Some were not sure what the objects were and compered notes.
To keep riding on two wheels Bry had just bought this scooter.
Very nice.
Photos by Gail.
Just to round off a good day Paul had found a new friend.
Many thanks to all took part.
Another good day out in
East Yorkshire.
Steve Fisher has just sent me an email saying that the riders and others donated £46 towards the Yorkshire Air Ambulance.
Well done everyone.

The Relay Rally.
Check point "Tea Pot". All set up and ready. First to arrive.
The weather was perfect . Wall to wall Sunshine.
Have bike will travel. Cotton. The oldest bikes.
A well used James. Matchless and Harley. Off we go again!
RE Model G. There's story behind every picture.
The little Honda is being worked hard because the pillion rider, Dick's, Triumph had had two punctures .
Nice to see Dennis out again.
A good day out in glorious weather in Yorkshire, many thanks to all that took part.
You lucky people.

The Wolds Run.
Once again I thank Richard for sharing these photos with us. This time there were all taken at the Wolds Run. This is based at The Lincolnshire Aviation Heritage Centre, East Kirby, Spilsby. The event is run by Skellingthorpe and District MCC.
3rd Place. Not a thing you see every day.
A black bomber. Another black bomber. Good colour for Lincolnshire.
Pineapple fined James. Motobi four stroke. Shiny!
A good event with lots to see.

The Tiger Trot
The season has definitely changed and the better weather is on its way. The countryside has a lot more green showing on the trees and temperatures are creeping up. Twenty-five riders signed on and machines covered a wide range of capacities and makes. What is very pleasing is that riders came from not only East Yorkshire but also from other Sections.
All set up ready. Big Port AJS. A Bitza Bantam.
Good to see Rick back riding. Two triumphs and a BSA. First Away.
Les and passenger. Marie and her Baby Triumph. Dennis.
Last of the Summer Wine. Just to show what villages in East Yorkshire can be like.
First back. Les and Sister. Mr. Dawson Snr.
Lunch indoors and outdoors.
There were no reported problems with the route and only two machines were known to have had problems on the climb out of Newbald to High Hunsley but both were able to roll back down the hill to the start.
Niki sent me this email and photo on Sunday evening.
Hi Harry some pics. from this mornings run!
New Member Jason Clark my husband. First official VMCC run!
Had a lively ride out! Great route! No problems apart from I may have run out of fuel 2 miles away from lunch stop!
Jason and Marie to my rescue! Lunch was lovely!
Nikki.
(Marie leading ,Jason next, and Niki at the rear. A good photo of the hill out of Newbald.)
Thank you Niki.
Thanks to all that took part.
Another good day out in East Yorkshire.

The Spring Run.
The two weeks leading up to East Yorkshire's first run of the season was a very wet time. However on our way to the start we travelled to the top of High Hunsley (350ft.) which gave us a good view of the Vale of York and there was no sign of rain to be seen. At first there were only a few riders at the start at Beechwood Cafe but after a short while Glen was kept busy at the signing on station. Thirty-four riders signed on. Which was a very good turn out.
Glen looking for riders. Early birds. A few more.
In this photo are shown three of the four Velocetts that took part in the run. One with an electric starter.
Also in the shot is the BSA C11G belonging to a new rider on his first run with the Section. The rear sub frame was showing some mysterious sideways movement and the carburettor was just hanging on with one last remaining nut. The second new rider with the club was on a very well sorted Aerial Red Hunter. In the far distance can be seen the Norton twin of Phil Homes and the Triumph of Dennis Hodge.
This fine looking machine belonged to the third new rider with the Section. He had only become the proud owner of it a couple of days before the run. On his way to the start it spluttered to a stop but he was, by "bush telegraph", able to get a message back to John Stathers who rescued him with his van. The spanners came out and the carburettor was cleaned and the bike was back on its feet again. You can't beat a good shake-down run to help you get familiar with your bike and sort out little problems.
As we followed the route we came across another break down. This time it was an experienced rider Ken who's BSA was being troublesome. The fault was soon traced to an ignition coil that had become detached from its mountings
Press on and just round the corner, yes, you right another break down!
This time it was Area Rep Tony Cowley.
There were plenty of hands to make light work remaking connections and testing various bits of wires but all to no avail. We all offered the services of Les Dawson and his van to come and pick Tony up. Well done Les. I am sure Tony would be most grateful.
The Lunch stop at Middleton Arms was busy, Oldest rider and oldest bike?
a coach party, a large group of walkers, and us. Dennis Hodge.
The run back to the start was uneventful just the Bantam ,which would not start, more dirt in the carb.
I have just been sent these additional photos from Les Dawson.
At the start. Eddie passing through Langton. At the lunch stop.
Many thanks to Glen and all that took part.
Another good day out in East Yorkshire.

2017
The Beverley Run.
Because this is the Section's last run of the year there is always a chance the weather will not be kind. Changeable as the weather is a wet week did not change into a dry weekend. The Bishop Burton College had once again proved to be an excellent host. There were plenty of signs directing riders to the entrance to the grounds. Within the grounds there were more signs guiding riders to the parking area and to the all important canteen.
After coffee had been taken the rain had abated and the riders, sixteen in all set off on the runs. I say runs because there were two routes available a short one of forty miles and another of sixty four miles. Only one rider opted for the shorter route.
Shiny bikes at the start. Oldest bikes away first.
Braving the weather First two back A good clean needed.
The two smallest machines on the run. John's MZ and Tim's Ossa.
Tim managed to fall off his bike before he got to the main York road. Perhaps a spillage of something slippery but no real damage done.
The Ducati had a puncture but an aerosol repair can was deployed and it did the job. I have used one once and it worked well saving a lot of work at the road side. There were reports of a lot of water in places. Les who is usually first back had stopped off to look in the church in South Dalton. It was built in 1858-61 and has a fine interior.
As you can see it is well worth a visit. Those riders who followed the short route would have ridden through the Hotham estate which the church is part of.
Despite the weather riders seemed to enjoy the ride.
The East Yorkshire Section hope to see you all next year for a fun packed season of events. Take care.

The Saturday Wanderings.
The organisers had had a bit of a scramble getting things together for this run due to circumstances beyond their control. For expedience sake a previous route of Allan's was used. Whilst checking the route it was found that a section of road was in a very poor condition and could not be used. This of course meant an alteration of route and a revision of the route card and a final check just to make sure. There was also an earlier confusion with the lunch stop due to two public houses in the area having the same name.
The organisers sorted things out and everything was in place. With twenty one riders signed on and a weather forecast that predicated a dry day we were set for a good day out in Yorkshire.
Bikes and riders at the start
One of the last away. Approaching Castle Howard. Adjustment stop.
Approaching Church Houses. Feversham Arms. Dennis.
The route passed through Thixendale, Leavening, and Terrington. Through the village of Hovingham after which a right turn to Nunnington was taken. Onwards towards Kirbymoorside, Fadmoor, along very traffic free roads, that cut through some very pleasant countryside, to the lunch stop at the Feversham Arms at Church Houses. A distance of forty three miles. A good lunch was enjoyed in good company.
The afternoon route guided riders through Hutton Le Hole, Pickering, and Thornton le Dale and the ice cream stop. From here to Sledmere and return to Tea Pot a distance of thirty seven miles.
Lunch. Ready to set off. Seen at Tea Pot.
A most enjoyable day in Yorkshire.
Many thanks to the organisers.

The Brian Woolas Memorial Run
(Forest Run)
The weather had not been very good all week leading up to the run. But at 9am Sunday morning it was damp but not raining. By the time 10am came along 21 riders had signed on and still no rain.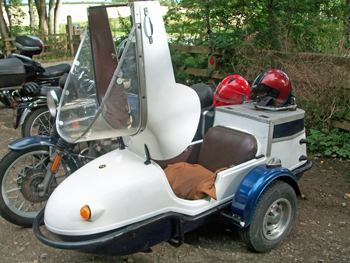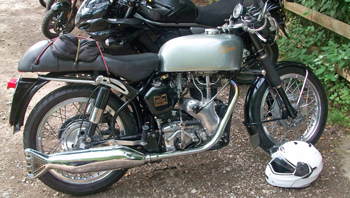 First to sign on. A few of the first bikes to arrive. The first cup of tea of the day.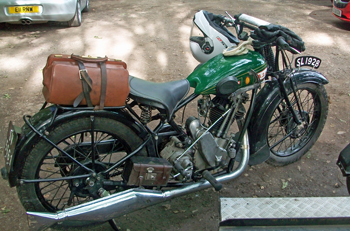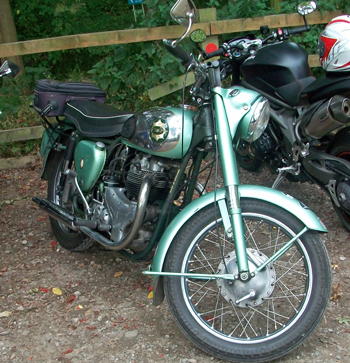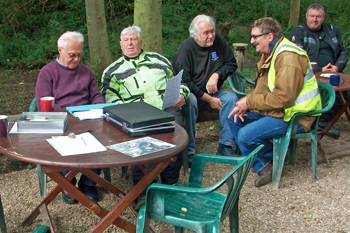 Installing the route card. Les and Co. First away. Oldest bike on the run.
The first riders were away by 11o'clock and the car park gradually became less crowded. The route headed towards Malton and Eden Camp, then on to Thornton Le Dale via Crompton and Newton.
At Thornton Le Dale Peter had reserved an area in the car park especially for the bikes. This allowed the riders to walk into Thornton Le Dale and choose where they had lunch. The bikes were looked after by no less a person than Brian Thompson. We had with us Peter's nephew, a newly qualified driver on his 125cc machine. It was his first outing with the Section and as such he was escorted by our resident backmarkers, Geoff Ketley on his three wheeled Piagio and Tony Reed, on his BMW and not his usual Honda Cub.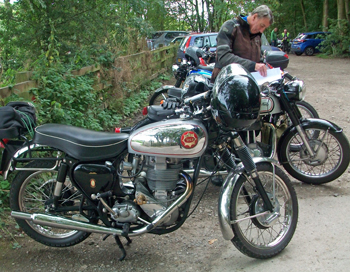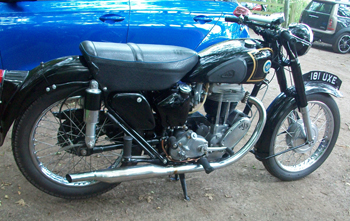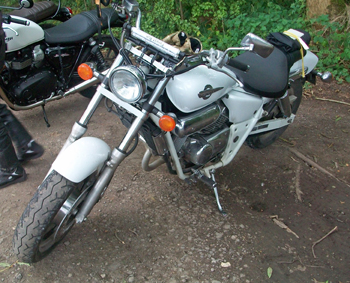 In the car park. The last to arrive.
After lunch the route took riders through the forest. There is now a new arrangement for entry into the forest via an automatic barrier. Motor cycles are allowed to bypass this and subsequently entry is free for them. On to Troutsdale and Sedmere and finally Tea Pot Cafe. A round trip of about 88miles.
There weren't any breakdowns and the showers did not last long.
A good day out in the fresh air of Yorkshire.
Thank you to Peter and all that helped and thanks for coming.

The East Yorks Section Family Camping Weekend.
Many thanks to Nicola for the photos at the camp site at Goathland.
Everybody seems to be enjoying the fresh air and the usual camping activities, camp fires, playing games and eating.

The July Jaunt
We are enjoying a spell of good weather at the moment and Sunday 16th was no exception. Plenty of clouds about but no rain forecast. Alan who had organised the run had been unwell in the weeks before the run but thankfully recovered and was able to conduct the event with his usual efficiency.
(1) First to sign on all the way from Sheffield in their Morgan.
(2) Numbers beginning to build up.
(3) A new member on a Honda taking part in his first run with the section.
In all over fifty riders signed on. The best turn out this year so far. Lets hope this is a sign of things to come.
Riders set off on the morning route in good time. The route passed through Londesborough, Warter, and skirted the edge of Millington and onwards to Thixendale. The road into the village drops some 300feet in about a mile and it gives some of the best views of the country side in the area.
Setting off. Available only in Yorkshire. Tony on the way to Thixendale.
Through Thixendale and turn left up the hill to Uncleby climbing some 200 feet in a very short distance to reach the roman road that leads to Leavening. More wonderful views.
"Biggles" tackles the climb. Go Tony Go. They also serve who only stand and eat.
From Leavening to Stamford Bridge, Barnby Moor, and then to The Plough Inn at Allerton. The Plough coped very well with the riders. Twenty four sitting down to an excellent lunch. Forty three miles ridden.
Parked neatly. Lunch. Overflow Park.
After a good lunch the riders set off on the afternoon route. Some machines took a bit of starting. In particular Tony's Triumph required a plug change for one cylinder before it ran to his satisfaction. Most impressive how ever was the electric start Velocette just a touch of a button and it barked into life.
The route wound its way through the Vale of York via Sutton on Derwent, Ellerton, Seaton Ross, and finally back to Langlands Garden Centre. Forty three miles ridden.
A good day was had by all and many thanks to Allan.
Yorkshire the place to ride your bike.

Mid Links Day Run.
Assembling at the start at Caenby Corner.
Twenty three riders set off on the run, this being the second attempt by the Mid Lincs section to stage a mid week day run and this years attendance was very pleasing to see. We were very fortunate with the weather following a very wet time over the previous few days, but the forecast held true being the best day of the week so far, later on becoming quite warm.
The route left Caenby Corner cafe, where several members partook of their food & drink. Over the roundabout taking a left turn after 3/4 of a mile onto less busy roads, passing by what looked to be a privately run hospital of which I had no previous knowledge, on through Glentworth and Kexby before turning back towards the long straightish road to Fillingham. This met Kirton top Road then travelling in the direction of Lincoln until a turn towards the busy A15 trunk road.
Once over this road the route headed onto the edge of Spridlington then turning off to Hackthorn before skirting the edge of RAF Scampton where being a bright day it was hoped we may be enthralled by the Red Arrows turning the sky many colours with their vapour trails but unfortunately it was not to be so. Then into Brattleby, followed by Bransby of horses home fame then through a golf course into Torksey where we turned towards Newark before passing over Dunham Toll Bridge, which fortunately is free for motorcycles.
Once over the River Trent the route headed out through High Marnham, Low Marnham on to Carlton on Trent. We then turned left over the A1 on very quiet roads again into Tuxford where it was a short run towards the lunch stop at Markham Moor Truckstop on the A1 junction a distance of 58 miles being covered.
More food at Markham Moor.
If you had realised on this last section of road it was clear to see Milton Mausoleum over to the left, built by the 4th Duke of Newcastle in memory of his wife being completed in 1833.
Following a hearty lunch & thanking the Truckstop staff for having us we turned left through Bevercotes passing very close by the site of the long gone NCB colliery into Walesby then after passing Gamston Airfield turning towards Retford. Off this road we passed through Upton, Treswell, North and South Leverton, North Wheatley into Saunby and Beckingham. Here whilst checking the route the previous day a road closure was found, driving up to the area of work we talked to the men who were installing a bungalow with a new gas supply. They explained the closure was planned until Thursday evening but it would be OK for bikes to come through and good as their word even though no one was there they had left us sufficient room through the cones.
From here it was a short hop to a pre arranged finish at Harry's where the kettle was already boiling & most partook of his hospitality. Thanks again Harry. From here after the world had been put to rights riders went off home in varying directions.
With this vast improved attendance over last year it looks to certain we will do the same again.
Another excellent day out in North Lincolnshire and a bit of Nottinghamshire.
Three nicely restored machines. R.Enfield, Norton and BSA.
Taking it easy with yet more refreshments.
Judging by the sign post I think they might have taken a wrong turn somewhere!
Many thanks to Richard for the photos and report.
Many thanks to all that helped with the run.