Welcome to the East Yorkshire Section of the V.M.C..
Club meetings at the Tiger Inn, Lairgate, Beverley. the first Sunday of the month at 8.00.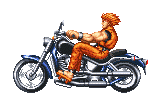 Dad's (Brian Sydney Thompson) funeral service will be held on Wednesday 12th August at 1:30pm at Large Chapel Chanterlands Avenue Crematorium, Hull. Due to Covid restrictions there can only be 30 people at the service, However we would welcome people to stand outside, & listen to the service which will be broadcast by loud speaker. We have also arranged for the service to be live streamed online & be available to be viewed for 28 days after the service, details of which will follow shortly. No flowers please but donations can be made to Pancreatic Cancer UK below.
We are planning to have a memorial service/ event next year once Covid restrictions have been lifted
Many Thank Rachel & Karl

Read about this photo in Section Notes.
Latest update 1st August 2020.

All events for 2020 are cancelled untill further Notice.
Section Notes, Harry's Page.
---July's Quiz Answer.(Posted 1st.August.)
---August's Quiz uestion.(Posted 1st. August.)
---1913 Sun Motor Cycle. (Posted 1st. August.)
---Wanted Dominator.(Posted 1st. June.)

Past Events.------------------2019
---The Beverley Run.(Posted 15th October.)
---The Sunbeam Challenge. (Posted20th September.)
---The Forest Run.(Posted 16th September.)
---The Northern Vetran Run.(Posted 16th September.)
---Mid Lincs Mystery Run(Posted September 4th.)
---The Sunk Island Run. (Posted August 26th.)
---The Seaside Run.(Posted 12th August.)
---Golden Era run.(Posted 29th July.)
---The Derwent Amble.(Posted 14thJuly.)
A Correction to above report.(Posted 15 July.)
Coming Events.)
Spicers Auction reopening. Next sale Saturday 4th July.One off deals on fees.
Look in Coming Events.
---Club Nights @ The Tiger Inn Beverley are Cancelled untill further Notice.